Good news for kids who are interested in giraffes and giraffe conservation: The Anne Innis Dagg (AID) Foundation is starting a Junior Giraffe Club!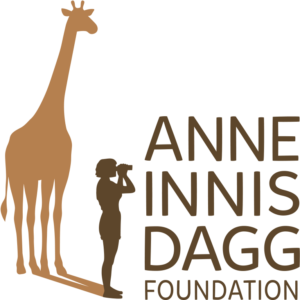 The club aims to create a worldwide community of giraffe ambassadors, embracing youth of all nations and cultures to champion giraffe conservation through education and action.  
They currently have members from Canada, the US, England and Tanzania from ages 7 to 18, and two university students who assist as facilitators.
The club, which meets once a month on Saturdays, will focus on learning about giraffes in the wild, meeting with giraffe zookeepers from around the world and understanding rangers in countries within Africa and what their role is in protecting giraffes. They will also be doing creative activities such as drawing giraffes, developing artwork, meeting scientists in the field and discussing current events.
If you or someone you know is interested in joining, please
reach out to Mary Dagg
at the Anne Innis Dagg Foundation.
In other news, as you may know, CAGIS waives membership fees of families experiencing financial hardship. The Anne Innis Dagg Foundation has kindly provided funding to cover the costs.

If you know a family that could benefit from waived membership fees, please have them email CAGIS. To learn more about the Anne Innis Dagg Foundation, visit their website.