Do you have what it takes to be an astronaut? Do you want to learn more about Canada going to the moon?
Young Canadians can test their skills and knowledge through the Canadian Space Agency's Junior Astronauts campaign with online activities in science and technology, fitness and nutrition, and teamwork and communications.
Selected kids in grades 6 to 9 from across Canada will have the opportunity to come to the Canadian Space Agency in Saint-Hubert, Quebec for a week of training by astronauts, scientists and engineers.
(Participating teachers, educators and youth group leaders will also have an opportunity to win a visit by an astronaut or space expert to their school or youth organization.)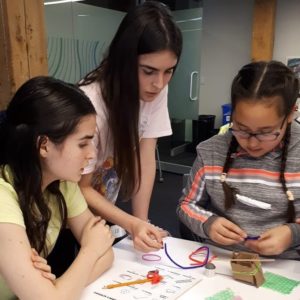 Along with online activities, there are in-person events too.
CAGIS chapters have hosted Junior Astronauts events in Hamilton, Toronto and Mississauga, with additional events planned across Canada throughout the spring. (Check out the CAGIS Facebook page for details.)
In Toronto, the group met with Dr. Bhairavi Shankar of Indus Space, who helped lead them through the challenges.
"It was a very empowering and inspiring session, working with girls my age, and being mentored by the female professionals," wrote Ashley Taylor in an article for the Toronto Student Media Network.
"My group of 3 girls was mentored by none other than CAGIS founder Dr. Larissa Vingilis-Jaremko herself. How awesome was that! We learned so much, made new friends, worked as a team, and presented our work to the entire group, twice. It was a day full of opportunities and knowledge."
Ashley also interviewed Dr. Bhairavi.
When asked about the Junior Astronauts campaign, Dr. Parshati Patel from Western University's Institute for Earth and Space Exploration, had some encouraging words for girls who might be interested in space science.
"Only 30 per cent of the world researchers are women! Role models play a major role in engaging and encouraging young girls to pursue STEM fields. In addition, it is important that we expose young girls to the wide variety of fields that exist in STEM. Space is incredibly interdisciplinary and has a wide variety of career professionals involved in it."
"The Junior Astronauts campaign highlights some of the many exciting opportunities in the field of space as well as engages girls in activities that are representative of what it would be like to train as an astronaut. The campaign provides them with a chance to put their name in a draw for a chance to visit the Canadian Space Agency headquarters for a space training camp."